Sometimes I wish there was another day in the week, I feel like I am so behind...
My son had soccer camp this week, so I was busy taking him back and forth..and of course we had to take advantage of the sunny days we had to go to the pool:o)! Well, today was his last day of camp...it was run by the local pro soccer team
The Pittsburgh Riverhounds
, and the pro players worked with the kids and taught them some cool moves:o)! A big thanks to the players for taking time out to share their knowledge and skills!! Go Riverhounds!
I also was very lucky to win some cool things...I won a give-away from Flora of
Bonehead Studios
...a very cool Halloween goodie...and from BJ of
Daughternature Primitive Folk Art
an awesome and very Prim Log Cabin ornie!! It has been raining since we got home from camp, so I did not get a chance to take pics of my prizes...Bear with me, I will do so soon:o)! Thank you Flora and BJ!! You girls rock!!
The rain gave me an opportunity to start some doll work...I haven't sewn since last week and I was having withdrawals...LOL
Here is one of my new listings on Ebay...An Izannah Walker inspired doll: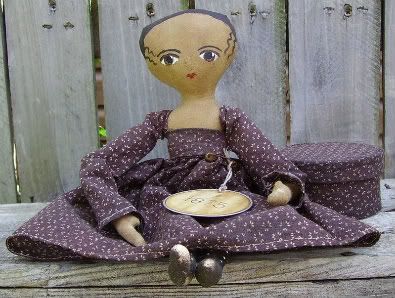 Click here
to see all my offerings for the week!!
And to you and yours...A very Happy and Safe 4th!! Happy Birthday America!!:o)