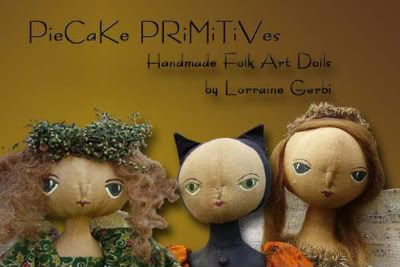 Do you own a PieCaKe PRiMiTiVeS dollie, make-do, ect.? Would you like to have your PieCaKe PRiMiTiVeS piece featured on my blog? Would you like a chance to WIN a PieCaKe PRiMiTiVeS dollie?
I am asking all PieCaKe PRiMiTiVeS collectors to please email me a picture of their PieCaKe PRiMiTiVeS piece on display in their home. I would like to start a weekly blog feature, showing PieCaKe PRiMiTiVeS pieces in homes across the country..and maybe around the world!:o) If you send me a picture, your name will be entered into a drawing to win a PieCaKe PRiMiTiVeS dollie. The dollie that you could win will be featured on my blog on July 17th..she is my ADO Elements Challenge Doll, and she's real sweet!:o)
Here are the rules...yep, I have rules :o)...
1. Please email me a digital photo. Be sure to label your picture with your name and state/province/ect.
2. You may submit more than one picture, but each picture submitted must be photos of different PieCaKe PRiMiTiVeS pieces in order to count as another entry for the drawing.
3. By emailing me, Lorraine Gerbi, a picture of your PieCaKe PRiMiTiVeS piece, you are agreeing to allow me to publish the picture online. No full names and addresses will be used-just first names and state, province ect. This is an example of how I will caption your photo: "Jane from PA"
4. All photo submissions must be received by Saturday August 15th 11:59 p.m. EST to be included in the drawing. The winner's name will be drawned on August 16th.
So....get your cameras ready and start clicking!!:o) Any questions, please shoot me an email!